What is Microsoft 'Guardian' ?
Guardian was developed over six months by a group of Microsoft India. Microsoft announced  on Thursday unveiled 'Guardian', a new safety application (app), exclusively launch for its Windows phone users.
Guardian give option to users switch on a 'track me' feature in the app that lets friends and family track them in real-time using their Microsoft Windows Azure cloud based services and Bing Map APIs programming interface.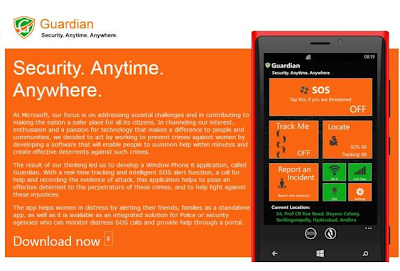 How it can protect ?
Users need to add the names of friends, family  and security groups to the settings and in emergency situation, the app can be used to alert them by use of the SOS button and also connect to security agencies, police and hospitals easily via this app in times of distress. All the user has to do is tap the SOS button, The phone can be traced even if it is broken. The application is capable of one touch video recording that may be used later as evidence, the official added.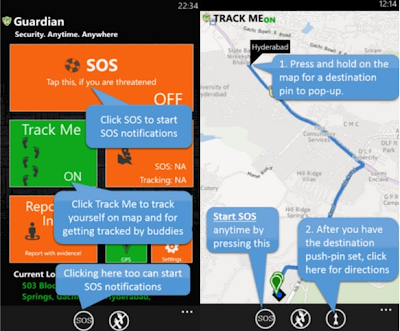 "The phone then sends SMS to all buddy mobiles, notifying them of the emergency along with location details. At the same time the SOS button also sends emails and posts to private Facebook groups, if registered," Microsoft official said.
Stay with us for more tech updates.
* Do you like this story? Then why not share it with your Friends *
If you enjoyed this post and wish to be informed whenever a new post is published, then make sure you subscribe to our regular Email Updates!