Adguard Web Filter is The best ad blocker and pop-up killer for all browsers
The Internet holds tons of useful information however, most websites nowadays have turned into ad-kiosks. Once you open one of them, your screen clutters most of the times  with futile advertisements and pop-ups. That slows up the entire webpage loading process and the page itself once loaded. They also pile up the to create a stressful Internet browsing experience. Some of them might even act as gateways for malware to invade your system or render X-rated content.
 Adguard Web Filter provides you with the tools to make the most of your web surfing by removing those irritating ads, thus decreasing loading times and redirecting that saved up traffic for more important web content. It goes beyond blocking ordinary ads by also intercepting video, rich media or non-standard ad varieties.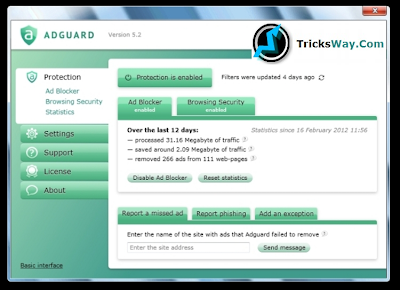 Adguard Web Filter description:
Here are some key features of "Adguard Web Filter":
Adguard removes annoying ads, reduces the page loading time and saves your traffic.
It works with all major browsers: Internet Explorer, Opera, Firefox, Chrome, Safari.
It blocks video ads, rich media and other non-standard types of ads.
Prevents tracking by ad networks and counters.
Adguard starts working right after installation, requires no additional p reconfiguration and is regularly updated.
Requirements:
Pentium 60 Mhz
16 MB ram
1 MB of free disk space
Limitations:
What's New in This Release: 
Added:
· QT Web browser support
· Sleepiness browser support
· Extended logging
· Filtration is enabled on big range of ports (not only 80)
· In proxy mode Adguard automatically set system settings
Fixed:
· Problem with no filtration of some ports
· Conflict with ESET ssl filtration
· Errors with HTTPS websites in Opera browser
· Problem with Opera''s periodical slowdown
· Opera Link problem
· Some problems with flash games
· Maxthon favorites synchronization problem
· Errors that occurred while loading some pages
* Do you like this story? Then why not share it with your Friends *
If you enjoyed this post and wish to be informed whenever a new post is published, then make sure you subscribe to our regular Email Updates!