Keeping redirect to
www.Delta-search.com
when you surfing online ? And you can't find a way to remove it once and for all ?
Then you come to a right place, I'M going to share you instructions about virus removal.
What is Delta Search Hijacker ?
Delta Search Hijacker is classified as a

Browser Hijacker

, which damage payload consists of hijacking your browser homepage,error page, or search page with its own, mostly a commercial site of it's creators, forcing you to hits to a particular website to make it more popular or by using pay-per-click sites to earn money. 
Delta Search Hijacker is a malicious program that causes redirects to Delta-search.com website. It gets into computer systems through email attachments or its comes bundled with freeware programmes. No matter which way it uses to infect the consequences are always the same.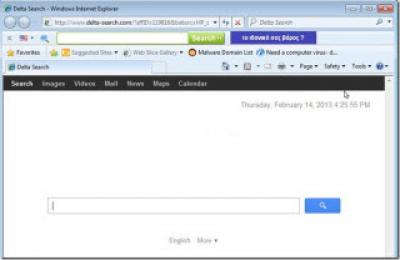 Dangerous :
A parasitic Browser Hijacker

Show numerous annoying advertisements

Logs your internet browsing history

Replace (hijack) your browser homepage

May spread additional spyware

May Violates your privacy and compromises your security
Delta Search Hijacker Removal :
1: Remove Delta Search and related programs from control panel and browser plugins :
From Internet explorer:
Click arrow on the right of search box
Do following: On IE8-9 choose Manage Search providers, On ie7 click change search defaults
Remove the Delta-search.com from the list
From Firefox :

Enter "

about:config

" in url bar. This will open settings page
Type "

Keyword.url

" in the search box. Right click it & reset it.
Type "

browser.search.defaultengine

" in the search box. Right click it & reset it.
Type "

browser.search.selectedengine

" in the search box. Right click it & reset it.
Search for '

browser.newtab.url

'. Right-click and reset. This will make sure that the search page won't launch on each new tab.
From Google Chrome:
Click 3 horizontal lines icon on browser toolbar
Select Settings
Select Basics ->Manage Search engines
Remove unnecessary search engines from list
Go back to settings. On Startup choose open blank page ( you can remove undesired pages from the set pages link too).
2 : Remove by AdwCleaner :
Download AdwCleaner
on the desktop. Launch the program and click on Remove and for the scan to be completed. You may need to restart the computer after the scan. Once the removal is complete, a report will be generated of spywares.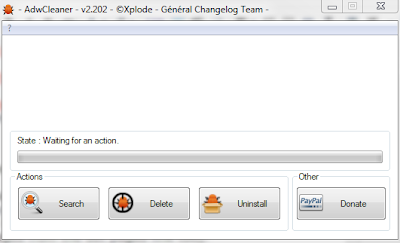 Note : Never download programs offered through advertisements or suspicious 
sites . During the installation of a free program, read carefully the terms of use and reject all additional programs that are offered.


* Do you like this story? Then why not share it with your Friends *
If you enjoyed this post and wish to be informed whenever a new post is published, then make sure you subscribe to our regular Email Updates!