Dear friends this is my first blog post, Every time I see blog and want to write something so I search on internet and find this topic I hope you like this. As we know Outlook.com (Live.com) is only good option after Google Apps. Same as Google Apps Microsoft decided to close free email hosting for custom domain and now no more free email hosting we can get from worlds two famous brand. Also this decision disappointed to many web developer like me, as we know Microsoft providing 50 email ids for custom domain without taking any charges but still there is no clear description what they think to charge means we can't predict what actually they want .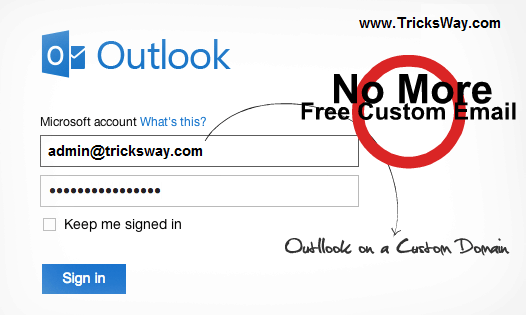 What Microsoft say for not providing free E-mail Ids for custom domain:
Outlook.com no longer offers support for new custom domain sign ups as per the update of Microsoft stop providing free E-mail. New customers looking to manage custom domains are encouraged to use Office 365, Microsoft's premium online service, which also includes enterprise-class mail, collaboration and communication tools.
But also a good news for us that if you custom domain on on outlook.com then you will continue to support the ability to log in to Outlook.com with your existing custom domain email address, but in the future, you will no longer be able to add or remove accounts in your domain.
Is any alternative of Google Apps and Microsoft Outlook.com for free E-mail hosting?
There is no exactly option like that but something is better than nothing, you can use Zoho mail to host your domain for mail Ids. Zoho.com free account providing upto email for 5 users, 5GB/user Mail storage, 5GB document storage.
* Do you like this story? Then why not share it with your Friends *
If you enjoyed this post and wish to be informed whenever a new post is published, then make sure you subscribe to our regular Email Updates!