If you are web developer and looking for a script which helps your users at time of filling email address than your are right place, today we will going to share a jquery script which auto complete most popular email services provider as, Google, Hotmail, Yahoo etc, You can also define your own.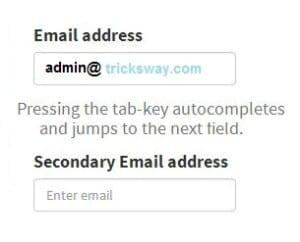 Importance jquery autocomplete email script:
Time of everyone is important, every internet user try to avoid if any website ask for their email. But if you provide easy way to fill email and other detail or simple registration than may you can increase your subscriber and users, it's also help you and your user to subscribe faster.
You can take jquery auto complete email code demo from below:
Demo
About this script:
Auto complete email domain address.
Auto jump to next option.
Light weighted script code. 100% safe and bug free.
Free download from tricksway
Download
* Do you like this story? Then why not share it with your Friends *
If you enjoyed this post and wish to be informed whenever a new post is published, then make sure you subscribe to our regular Email Updates!