Hello friends, today I'm going to share a simple and useful trick for beginner, if you are new and don't know much about WordPress and confused how to start ?
Don't worry this tutorial specially for you. I will share how to Install WordPress Using Cpanel and softaculous auto installer just one click and setup it for start your blog and all things we will done within 5 min.
Initial Requirement For Install WordPress on Live Server:
1- You have a working hosting account, configured with your domain name.
2- Hosting account (cpanel or Plesk) login detail, such as user name and password.
That's all to be start.
If your hosting account is cpanel than goto yourdomain.com/cpanel and login with your user name and password.
Scroll down and find for Softaculous auto installer or another WordPress auto installer (you will get least one installer for WordPress).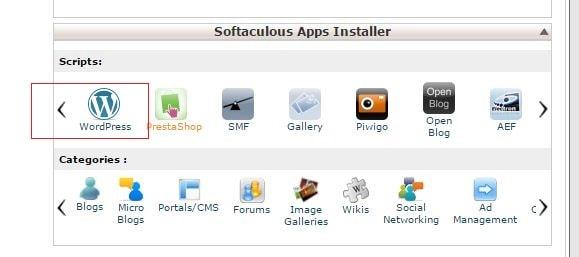 Click on it and it will redirect to you on installer page as below image.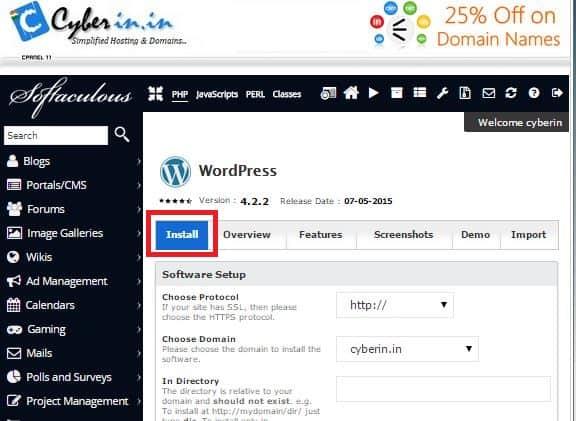 Just fill required detail as below:
1- Choose Domain (It's your domain for using WordPress)
2- In Directory if you want it on another sub directory of your domain (Ex- blog and it will be after installation something like yourdomain.com/blog) else you can leave it.
3- Admin name and password.
4- Leave all thing at time you can modify it in future if you need.
Now click on Install and wait for some time, after that will get login detail and confirmation.
Your WordPress admin URl look likes yourdomain.com/wp-admin
All done now you can login your WordPress and start your first blog.
* Do you like this story? Then why not share it with your Friends *
If you enjoyed this post and wish to be informed whenever a new post is published, then make sure you subscribe to our regular Email Updates!