Now days I'm discussing much about WordPress, recently I received a mail regarding to current issue "How to fix briefly unavailable for scheduled maintenance in WordPress", after checking that email I know all point and decide to share solution of above problem.

Why briefly unavailable error in WordPress ?
It is a common problem and comes while updating failure or server timeout during update process, most probability to happen this error on shared WordPress hosting, and WordPress leave your site in maintenance mode and not going to fix automatic.
If exactly I describe, Maintenance mode not a error. It's a notification page.
During the update of plugin or WorPress core files WordPres downloads important files and store on server. Also WordPress leave your site normal mode to maintenance during this process and displays text "Briefly unavailable for scheduled maintenance ".
In normal case it's remove after instillation but if updates got interrupted, WordPress does not going to take out your site from maintenance mode.
How to fix briefly unavailable error in WordPress:
Method 1 -
Disable Plugin Directory: If this error happen during plugin update, goto

"/public_html/wp-content"

using FTP and rename your Plugin folder for some time.
Deleting .maintenance file from /public_html/ or root folder (this file available same place of index.php file).
Check below image to be clear, I'm using FileZilla FTP Client

(It's free and you can download from https://filezilla-project.org/)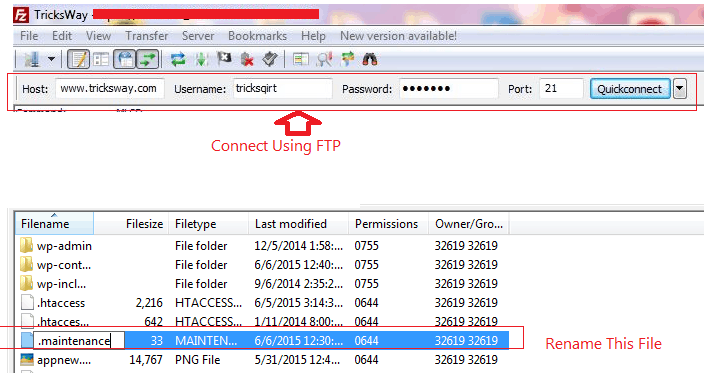 Method 2 -
First backup you existing WordPess site along with Database for safety and backup purpose.
Now go to http://wordpress.org/download/ and download latest update and extract them.
Connect your WordPress site using FTP, to connect you need site URL, username and password. You can check above image for input process.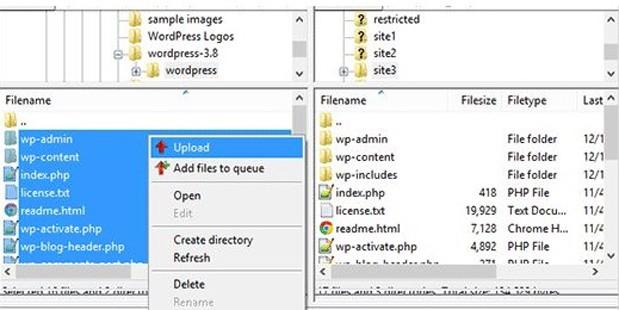 Drag and drop extract file as below image and allow overwrite and tick Always use this action when it's ask.
Wait untill transfer all files and after that access your site in browser, it may ask to "Update Database" allow it.
That's all ! I hope your site will again start and smile come on your face. It's pleasure for me .
Thanks for reading this article !
* Do you like this story? Then why not share it with your Friends *
If you enjoyed this post and wish to be informed whenever a new post is published, then make sure you subscribe to our regular Email Updates!