Hello friends, Today I'm going to share a ultimate method to obtain 50+ free email for your custom domain name. If I come back to my previous year email id's of TrickWay it's only one when TricksWay run on blogger server and unable to provide personal free mail id's to all my authors. But after applying of Micosoft Email Server now I run successfully more than 13 email id's with 25 GB free space, skydrive, skype and all other Microsoft free services.
Let's start setup free 50 email ids when you buy only domain name not the hosting or you are running a blog hosted on Google Blogger.
Get Free 50 Email Ids For Your Domain Without Any Web Hosting:
1- Open your domain default control panel (I'm sharing example of BigRock). There are so many domain provider have different type of control panel but don't worry they have almost same functional option.
2- Goto DNS setting and Edit DNS option.
3- Open Windows Live Admin Center and click on get started under Custom Domain tab.
Now add your domain under "Create a Microsoft services experience for your domain" (You must have previous outlook.com email id to avoid verification problem).
Continue login with existing outlook.com, live.com or hotmail.com account.
4- Add the MX Record, Text Record in your domain control panel (2 records can easily verify your ownership and setup your email accounts).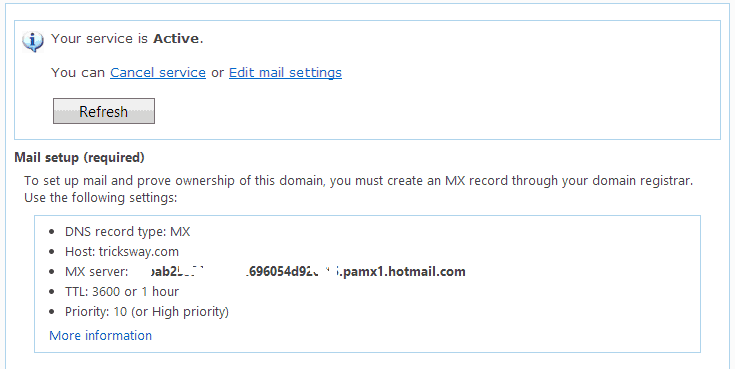 BigRock Domain DNS Panel For Example:


5- After successful done on all the setting wait for some time and check status under Windows Live Admin Center. If status is active than your email server setup and running well, now you can add the new user from your Windows Live Admin Center dashboard.

Note: You can add upto 50 free email id's at initial steps, if you need more than drop mail to Microsoft. According to me it's best alternative of Google apps.
* Do you like this story? Then why not share it with your Friends *
If you enjoyed this post and wish to be informed whenever a new post is published, then make sure you subscribe to our regular Email Updates!