There are some differences between all the display devices i.e. CRT(Cathode Ray Tube),LED(Light Emitting Diode),LCD(Liquid Crystal Display) and Plasma displays.
1)  Cathode Ray Tube: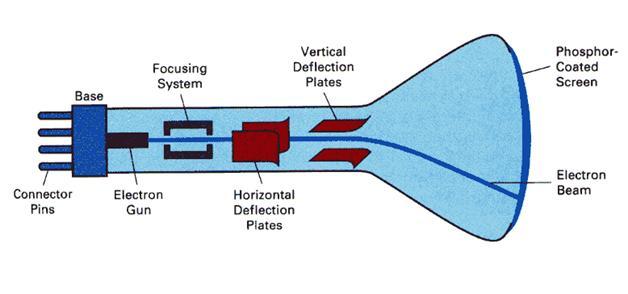 Advantages:
a)   They operate at any resolution, geometry and aspect ratio without the need for rescaling the image.
b)  CRTs run at the highest pixel resolutions generally available.
c)   Produce a very dark black and the highest contrast levels normally available. Suitable for use even in dimly lit or dark environments.
d)  CRTs produce the very best color and gray-scale and are the reference standard for all professional calibrations. They have a perfectly smooth gray-scale with an infinite number of intensity levels. Other display technologies are expected to reproduce the natural power-law Gamma curve of a CRT, but can only do so approximately.
e)   CRTs have fast response times and no motion artifacts. Best for rapidly moving or changing images.
f)    CRTs are less expensive than comparable displays using other display technologies.
 Disadvantages:
a)   The CRT's Gaussian beam profile produces images with softer edges that are not as sharp as an LCD at its native resolution. Imperfect focus and color registration also reduce sharpness. Generally sharper than LCDs at other than native resolutions.
b)  All color CRTs produce annoying Moiré patterns. Many monitors include Moiré reduction, which normally doesn't eliminate the Moiré interference patterns entirely.
c)   Subject to geometric distortion and screen regulation problems. Also affected by magnetic fields from other equipment including other CRTs.
d)  Relatively bright but not as bright as LCDs. Not suitable for very brightly lit environments.
e)   Some CRTs have a rounded spherical or cylindrical shape screen. Newer CRTs are flat.
f)    CRTs give off electric, magnetic and electromagnetic fields. There is considerable controversy as to whether any of these pose a health hazard, particularly magnetic fields. The most authoritative scientific studies conclude that they are not harmful but some people remain unconvinced.
g)  They are large, heavy, and bulky. They consume a lot of electricity and produce a lot of heat.
2) LED(Light Emitting Diode)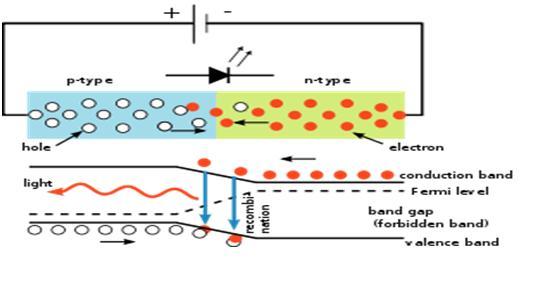 Advantages:
a)   It is very cheap.
b)  Very simple electronic circuits.
c)   It is reliable.
d)  It is efficient
e)   Life span : Around 100,000 hours
f)    Screen size : Up to 90 inches
g)  Power Consumption : LED-lit LCD TVs consume lesser power around 70% compared to Plasma TVs.
h)  Viewing Angle : The brightness and color on LCD TVs shift noticeably over the screen and depending on viewing angle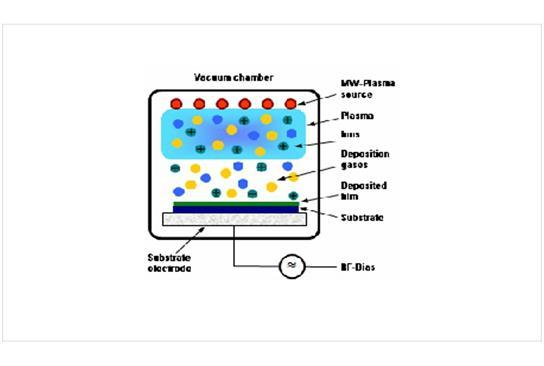 Disadvantages:
a)   Restriction to only 16 hexadecimal figures.
b)  Low quality LEDs may cause pollution to environment.
c)   May result in more e-wastes.
3) LCD(Liquid Crystal Display)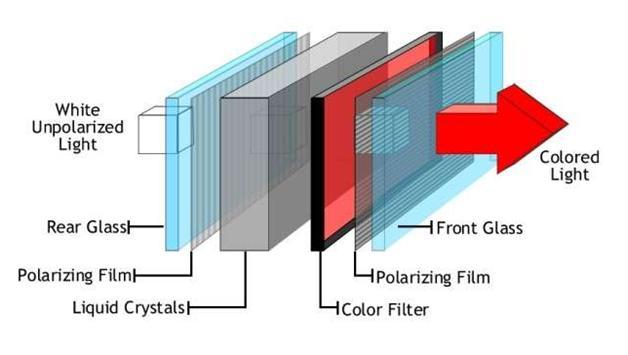 Advantages:
a)   Produces very bright images due to high peak intensity. Very suitable for environments that are brightly lit.
b)  Produce considerably lowerelectric, magnetic and electromagnetic fields than CRT.
c)   Consume less than  1/3rd the power of a comparable CRT.
d)  Life span : 50,000 - 100, 000 hours
e)   Screen size : 13-57 inches
f)    Power Consumption : Require less power to operate compared to plasma, but more than OLED TVs
g)  Viewing Angle : Up to 165°, Picture suffers from the side 
 Disadvantages:
a)   The aspect ratio and resolution are fixed.
b)  Lower contrast than CRTs due to a poor black-level.
c)   Slow response times and scan rate conversion result in severe motion artifacts and image degradation for moving or rapidly changing images.
4)Plasma Display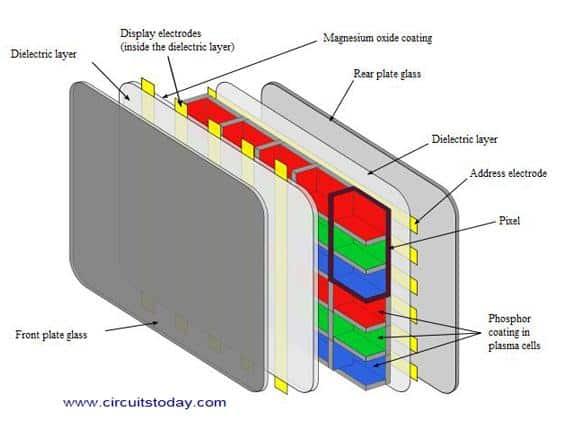 Advantages:
a)     Larger screen size availability. 
b)    Better contrast ratio and ability to render deeper blacks. 
c)      Better color accuracy and saturation. 
d)    Better motion tracking (little or no motion lag in fast moving images). 
Disadvantages:
a)     Plasma Displays are more susceptible to "burn in" or "screen burn" of static images. 
b)     Plasma Displays requires more power thus more heat produced than LCDs. 
c)      Does not perform as well at higher altitudes. 
d)     Shorter display life span than LCD. This can vary according to other environmental and use factors. 
* Do you like this story? Then why not share it with your Friends *
If you enjoyed this post and wish to be informed whenever a new post is published, then make sure you subscribe to our regular Email Updates!